Randomized trials
Cervical pessary for prevention of preterm birth
The majority of babies born prematurely survive and develop normally. However, babies born before 34 weeks have a higher chance of dying soon after birth or becoming disabled than babies born at term. In singleton pregnancies the chance that a woman will go into labour and deliver before 34 weeks is about 1%. In twin pregnancies, the chance of such premature birth is 10-15%.
There is some evidence that in singleton pregnancies with a previous premature birth or a short cervix the chances of premature birth may be reduced by them taking progesterone or cervical cerclage. Randomized studies in twin pregnancies have reported that these treatments are not beneficial.
The Fetal Medicine Foundation has conducted two multicentre studies, one in unselected twin pregnancies and one in singleton pregnancies with short cervical length at 20-24 weeks' gestation, to determine if the insertion of a vaginal pessary reduces the chances of premature birth.
Vaginal silicone pessary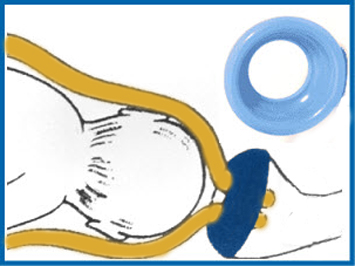 Results of the study in twins
Nicolaides KH, Syngelaki A, Poon LC, de Paco Matallana C, Plasencia W, Molina FS, Picciarelli G, Tul N, Celik E, Lau TK, Conturso R. Cervical pessary placement for prevention of preterm birth in unselected twin pregnancies: a randomized controlled trial. Am J Obstet Gynecol. 2015 Aug 28. pii: S0002-9378(15)00933-3. doi: 10.1016/j.ajog.2015.08.051.
Twins are found in 1.5% of pregnancies, but they account for about 25% of preterm births. The objective of this study was to test the hypothesis that the insertion of a cervical pessary in twin pregnancies would reduce the rate of spontaneous early preterm birth. This was a multicenter, randomized controlled trial in unselected twin pregnancies of cervical pessary placement from 20+0-24+6 weeks' gestation until elective removal or delivery vs. expectant management. Primary outcome was spontaneous birth <34 weeks. Secondary outcomes included perinatal death and a composite of adverse neonatal outcomes (intraventricular haemorrhage, respiratory distress syndrome, retinopathy of prematurity or necrotizing enterocolitis) or need for neonatal therapy (ventilation, phototherapy, treatment for proven or suspected sepsis, or blood transfusion). Analysis was by intention to treat.
A total of 1,180 women took part in the trial; 590 received cervical pessary and 590 had expectant management. There were no significant differences between the pessary and control groups in rates of spontaneous birth <34 weeks (13.6% vs. 12.9%; relative risk 1.054, 95% confidence interval [CI] 0.787-1.413; p=0.722), perinatal death (2.5% vs. 2.7%; relative risk 0.908, 95% CI 0.553-1.491; p=0.702), adverse neonatal outcome (10.0 vs. 9.2%; relative risk 1.094, 95% CI 0.851-1.407; p=0.524) or neonatal therapy (17.9% vs. 17.2%; relative risk 1.040, 95% CI 0.871-1.242; p=0.701). A post hoc subgroup analysis of 214 women with short cervix (≤25 mm) showed no benefit from the insertion of a cervical pessary.
It was concluded that in women with twin pregnancy, routine treatment with cervical pessary does not reduce the rate of spontaneous early preterm birth.
Results of the study in singletons
This was a multicenter randomized controlled trial comparing pessary with expectant management, in singleton pregnancies with cervical length <25 mm at 20 - 24 weeks' gestation. Women in both arms of the trial with cervical length <15 mm, at randomization or subsequent visits, were treated with vaginal progesterone. The primary outcome was spontaneous birth at <34 weeks. In total 932 women participated in the study and the results will be published in the near future.