FMF World Congress
Sponsors and Exhibitors
DIAMOND SPONSORS
GE Healthcare

|
GE Healthcare is a leading provider of medical imaging, monitoring, biomanufacturing, and cell and gene therapy technologies. GE Healthcare enables precision health in diagnostics, therapeutics and monitoring through intelligent devices, data analytics, applications and services. With over 100 years of experience and leadership in the healthcare industry and more than 50,000 employees globally, GE Healthcare helps healthcare providers, researchers and life sciences companies in their mission to improve outcomes for patients around the world.  Follow us on Facebook, LinkedIn, Twitter and The Pulse for latest news, or visit our website www.gehealthcare.com for more information.
GOLD SPONSORS

|
PerkinElmer is a global company focused on improving the health and safety of people and their environment. Within the field of fetal and maternal healthcare, PerkinElmer offers complete screening solutions including instrumentation, reagents and risk calculation software for early detection of pregnancy related anomalies.
PerkinElmer was chosen as the principal screening partner for ASPRE. Throughout the study, the PerkinElmer DELFIA® Xpress PlGF 1-2-3TM assay was used as an aid in screening for pre-eclampsia in conjunction with maternal history, mean arterial blood pressure (MAP) measurement, and uAD (Uterine Artery Doppler). Also, PerkinElmer partners with FIGO's Non-Communicable Disease (NCD) Committee to help develop guidelines and practice recommendations on pre-eclampsia prevention.
PerkinElmer has now launched the VanadisTM NIPT system which is an automated non-sequencing, non-PCR based solution for cfDNA analysis. PerkinElmer offers an easy to use, cost-effective, high-throughput screening test to help facilitate wider access to non-invasive prenatal testing for pregnant women.
Maternal fetal products availability and claims may differ from country to country based on regulations and product approvals. Please check availability with your local distributor.
SILVER SPONSORS
illumina

|
Illumina is the leading technology provider for noninvasive prenatal testing (NIPT)—enabling health care professionals and expectant parents to be informed about their pregnancy. Illumina is dedicated to improving health through genomics.
QB#5858
BRONZE SPONSORS
CANON MEDICAL SYSTEMS

|
Canon Medical offers a full range of diagnostic medical imaging solutions including CT, X-Ray, Ultrasound and MRI, across the globe. As of December 2016, Canon Medical became a member of the Canon Group. In line with our continued Made For life philosophy, patients are at the heart of everything we do. Our mission is to provide medical professionals with solutions that support their efforts in contributing to the health and wellbeing of patients worldwide. Our goal is to deliver optimum health opportunities for patients through uncompromised performance, comfort and safety features.
At Canon Medical we work hand in hand with our partners – our medical, academic and research community. We build relationships based on transparency, trust and respect. Together as one, we strive to create industry-leading solutions that deliver an enriched quality of life.
STANDARD PLUS SPONSORS
Mindray

|
Founded in 1991, Mindray is one of the leading global providers of medical devices and solutions. Firmly committed to our mission of "advance medical technologies to make healthcare more accessible", we are dedicated to innovation in Medical Imaging System.
Mindray possesses a sound global R&D, marketing and service network. Inspired by the needs of our customers, we adopt advanced technologies and transform them into accessible innovation, bringing healthcare within reach. Today, Mindray's products and services can be found in healthcare facilities in over 190 countries and regions.
---

|
B·R·A·H·M·S GmbH, part of Thermo Fisher Scientific, investigates, develops and manufactures novel diagnostic testing procedures to improve early diagnosis and treatment of life threatening diseases. With high-quality immunodiagnostic tests for prenatal screening, cardiovascular, pulmonary, and cancer disorders as well as for sepsis, the company contributes to the creation of a healthier future – to the greatest advantage for medical professionals and patients.
In future simple and economic blood tests will be of great importance for an early detection and successful treatment of diseases. With our know-how and technologies we are confident to play an active role in this future: Our products provide important information to clinicians and laboratories in more than 130 countries worldwide, supporting their clinically and economically relevant decisions.
The B·R·A·H·M·S KRYPTOR platforms and the B·R·A·H·M·S biomarkers for prenatal screening are CE certified and approved by the Fetal Medicine Foundation (FMF), the portfolio comes up to the quality standards of the FMF since 1999.
---
Philips

|
At Philips, we look beyond technology to the experiences of patients, providers and caregivers across the health continuum, from healthy living to prevention, diagnosis, treatment and home care. We unlock insights leading to meaningful innovations from hospital to home.  Our integrated solutions – comprising systems, smart devices, software and services – combine broad and deep clinical expertise, technology and services, actionable data, consultative new business models and partnerships.  Together, with our customers, we can transform how care is delivered and experienced.
STANDARD SPONSORS
NIPD Genetics

|
NIPD Genetics is an innovative European biotechnology company that designs, develops, and manufactures non-invasive genetic tests in the fields of prenatal, oncology and reproductive health. Founded in 2010, NIPD Genetics leverages proprietary genetic and bioinformatics methods to develop novel technologies for prediction and diagnosis of genetic disorders. NIPD Genetics provides the VERACITY NIPT for the detection of trisomies 21, 18, 13, X and Y aneuploidies and select microdeletions. NIPD Genetics also offers VERAgene, the first comprehensive NIPT that simultaneously screens for aneuploidies, microdeletions and point mutations. VERAgene targets nearly 500 mutations on 50 genes to screen for 50 monogenic disorders.
---
Integrated Genetics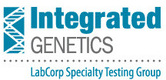 |
From carrier screening, serum screening, NIPT, diagnostic testing, and hereditary cancer testing, Integrated Genetics—a member of the LabCorp Specialty Testing Group—offers a comprehensive genetic testing menu. With over 1,700 patient service centers, the largest commercial genetic counseling network, and an online cost estimator, Integrated Genetics helps you understand DNA.
|